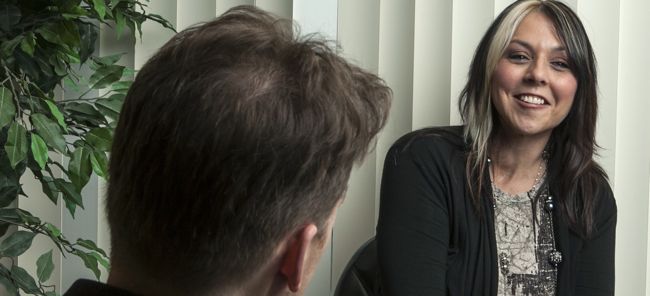 Why should I consider therapy?
There are many reasons therapy could be a good and important choice for you. Consider where you are at this moment in your life. Presumably you're thinking about therapy because parts of your life are not as satisfying or as rewarding as you'd like. Perhaps you feel alone and alienated. Perhaps you are deeply unhappy.
Two important things for you to recognize about yourself:
That you have the courage to reflect on your life and seek change.
You have the courage to reach out and seek guidance.
If you've reflected on your life and decided to seek help, you are a good candidate for therapy.
What will therapy do for me?
You'll work with your therapist to identify, understand and treat the areas that are creating the most distress in your life. All work is done in a collaborative and supportive environment. When you first visit the Wilshire Center, you and your therapist will assess any issues you may wish to address. Your therapist will devise a treatment plan best suited to your particular needs.
Whether you're suffering from depression, anxiety, stress or relationship problems, your therapist will help you understand the counter-productivity of your current situation.
Often anger, shame or pain that originated in the past can re-emerge in other contexts and relationships, making it seem you are forever trapped in a way of being that has no solution.
Whatever the issue, therapy ultimately will help you discover choices, feelings and subconscious thoughts you did not realize you had.
Therapy helps you take actions to break free from the past. It helps you set a course for the life you want to live — rather than remain in the trapped life you've been living.
How long will this take?
Therapy can be a short-term, solution-focused experience. Or, if there are more complex and deeper issues of trauma and pain, it may take longer. It all depends on you.
Sometimes people come into therapy with a specific problem they need to work through. Say divorce or the loss of a job. Somewhere between 4-8 weeks, once a week, can help with these situational problems.
If someone comes into therapy with deeper layers of depression or trauma stressors, however, therapy can take from one to three years. The duration depends on what sort of issues surface in the process — and on the client's level of commitment to work through them.
How often will I see my therapist?
The frequency of your visits always are determined by your personal situation. Some people see their therapists once a week; others once or twice a month. The frequency could well change as treatment progresses. 
If you are in crisis or have a specific set of circumstances, this could call for more than a single appointment per week.
Will I need medication?
Your therapist will help determine if you can benefit from medication management. Drugs can be helpful in transitioning through difficult periods. Some people benefit from taking psychotropic medication for extended periods.
We do not believe in medication for medication's sake, but are aware of its importance in certain circumstances.
Therapists do not prescribe medication. We work with psychiatrists in the community who are licensed to prescribe medication. Your therapist can make the appropriate referrals. Also, view this list of L.A. psychiatrists.
What if I don't like my therapist?
If you're not comfortable with your therapist or with what is being said to you, speak directly with the therapist and/or write down your concerns. Be specific and cite some examples of what's making you uneasy.
Your therapist has your best interests at the center of your treatment. You can expect a supportive and reflective response.
If this does not resolve the issue, terminate therapy and/or request a referral to another therapist. If you want a referral, your therapist has an ethical duty to provide three names of therapists in your area.
There are many wonderful and highly trained therapists on our staff and elsewhere in the community. It is well worth the time to seek out the right ones. They are out there.
When will I feel better?
As the old expression goes, It's darkest before the dawn. Or, as Carl Jung once said, there is no consciousness without pain. There certainly is some truth to this.
Feelings of sadness, loneliness and anger are important and necessary emotions that — once reclaimed and expressed — can have a profound effect on the healing process. Therapists help clients break through walls of silence that have kept them distanced and apart from others, perhaps for years.
Therapy provides a venue for profound changes, almost always for the better. The process does take time, commitment, and the desire and willingness to change.
Nothing good happens overnight. Be patient and trusting of the process. Wonderful results can occur.
Which kinds of people can you help?
The Wilshire/Valley Therapy Centers treats adults, children and teens. As individuals, couples or families. We're also a resource for the gay and lesbian community.
Whatever the case, we will do our best to effectively serve your needs and meet your requirements.
Many of our therapists treat all general conditions and many also are highly specialized. View the therapists directory for more information. If you are seeking a specific treatment, be sure to make that request upon contacting us.
How are my privacy and confidentiality protected?
We are dedicated to our clients' privacy and the strict confidentiality implicit in the patient-therapist relationship. View our Protected Health Information (PHI) notice.
Will your therapists work outside the office setting?
Psychotherapists also provide services within the community such as school-based settings or home environments, depending on the circumstances and the clinical requirements. Please inquire for details.
There may be times when traditional out-patient therapy may not be the best option. On these occasions, appropriate referrals may be made for alternative treatment.
Getting help: action items
Contact the therapy centers today. Hope and healing are just a phone call away.
To learn more about getting help at Wilshire/Valley or Pacific West Counseling, visit our FAQ page.